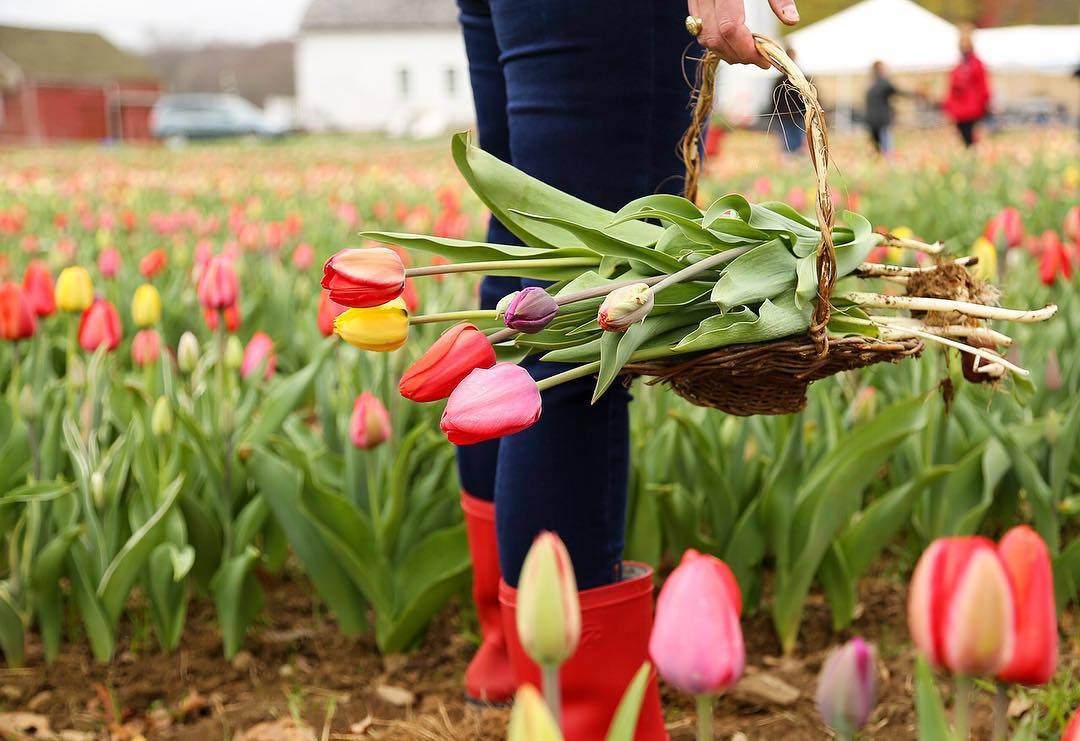 WICKED TULIPS PHOTOGRAPHY GUIDELINES
Wicked Tulips Flower Farm provides a stunning backdrop for professional, amateur, and smartphone photographers alike. All are welcome, but we do require a site fee for professional photo-shoots or anything for monetary gain. These include engagement, wedding, pet, family, senior portraits etc.  
Our goal: make it easier for everyone!
We have made some changes to some of our prior years' policies. Photography seems to cost us the most "customer service hours". We receive an exorbitant number of calls and emails on a daily basis regarding photo shoots. Of course we are thrilled that you all like the tulips so much, and we want you to have the opportunity to photograph in our tulip fields, but we also want to streamline everything and make it easier and more enjoyable for everyone!
Policy Updates
You need to purchase a  "Site fee" plus an admission ticket for you and your client(s) to enter the field as a professional photographer during our regular business hours. We close at 7 pm so you must be ready to leave then. See details below.
It is the photographer's responsibility to email or print the tickets for their clients for admission to Wicked Tulips on the day of the photo shoot.  See details below. I
Photography policy "During business hours"
A site fee ticket is required. Choose to pay $25 per session or $150 for a "one day" unlimited sessions ticket. You have access to the field during business hours only- not after hours. Site fee tickets do not sell out and can be used any day we are open during regular business hours. Purchase your "Site Fee Ticket" here. After you purchased a "Site Fee Ticket", your confirmation email will contain a SECRET LINK + PASSWORD. DO NOT GIVE THIS TO ANYONE. THIS LINK IS ONLY MEANT FOR PHOTOGRAPHY TICKETS.
Admission tickets are required for all members of the party including the photographer/assistant(s). After you purchase your site fee you will receive a special code to purchase photography admission tickets. These tickets do not sell out and can be used any day we are open during regular business hours. If you wanted to do a shoot on one of our Early Bird Tuesdays you would need to purchase an Early bird ticket and they are only good for that day. Site fee tickets and admission tickets are good for any day and don't sell out but are non-refundable. Clients cannot enter the tulip field without their ticket. It is the photographer's responsibility to make sure their client(s) have their tickets. WTFF staff will not hold tickets at the door for them. No photography equipment except camera bag/lenses. No props, ie., reflectors, light stands, etc.
Photography policy for our "Preferred Photographers"
WTFF will accept 12 photographers to be the exclusive on-site photographers, aka, Preferred Photographers. Here are the benefits to being one of the Preferred Photographers at Wicked Tulips Flower Farm in 2018. If you are interested in becoming one of our preferred photographers, please contact us at teamtulip@wickedtulips.com
You pay a one-time Seasonal Site Fee of just $600. You may come throughout the season with an unlimited number of photo sessions. You can schedule photo shoots during our business hours, but you also have exclusive after-hours access to the tulip field. You, the photographer, will have "anytime" passes and will NOT be required to purchase a ticket for yourself and for one photo assistant. You, the photographer, will purchase tickets for clients through a special link. These come from a separate pool of tickets- not the general admission tickets. You will email the tickets directly to your clients. This should cut down on any issues we had last year with photography check-ins. This will also make it easier for clients to check in without you being present at the entrance- less stress for you, the client, and Wicked Tulips. After-hours shoots can only be done by this select group of photographers, which means very few other people on the field during your photo sessions. It also means that visitors wanting a shoot after hours can only choose from our preferred list. Preferred Photographers are the only photographers who can offer pet photo shoots. These are allowed after business hours only. Pets must have an up to date rabies vaccine (copy must be sent/given to WTFF's staff no later than the day of shoot), be well-behaved, leashed, and picked up after. Photographers are responsible for paying for (or making sure their clients do) any tulips that are damaged during any photo shoot. We are excited to support other local businesses. Our goal is to help our Preferred Photographers make money and grow their business each year. WTFF will promote all of our Preferred Photographers on wickedtulips.com and on our Facebook page. WTFF will provide a coaching session by a professional Business Coach prior to opening day. Any and all Preferred Photographers and their assistants are welcome to participate.